«

The 3D seatmap is a state-of-the-art tool for our customers to discover the Austrian Airlines flight experience even before boarding. It enables passengers to gain a realistic impression of our premium inflight product.

»
Julian Fischer, Head of Austrian Product & Innovation.
Seat selection to its full potential
STOP IMAGINING WHAT YOUR SEAT LOOKS LIKE. EXPERIENCE IT INSTEAD!
We integrate 3D seat selection into Austrian Airlines to bring their customers the best possible experience even before they board the plane. Of course, we include step-by-step navigation as well as other innovations in this project, such as the navigable mini-map within the 3D view.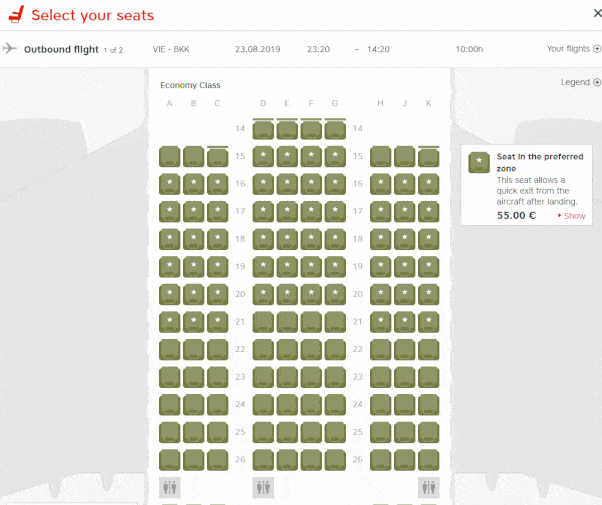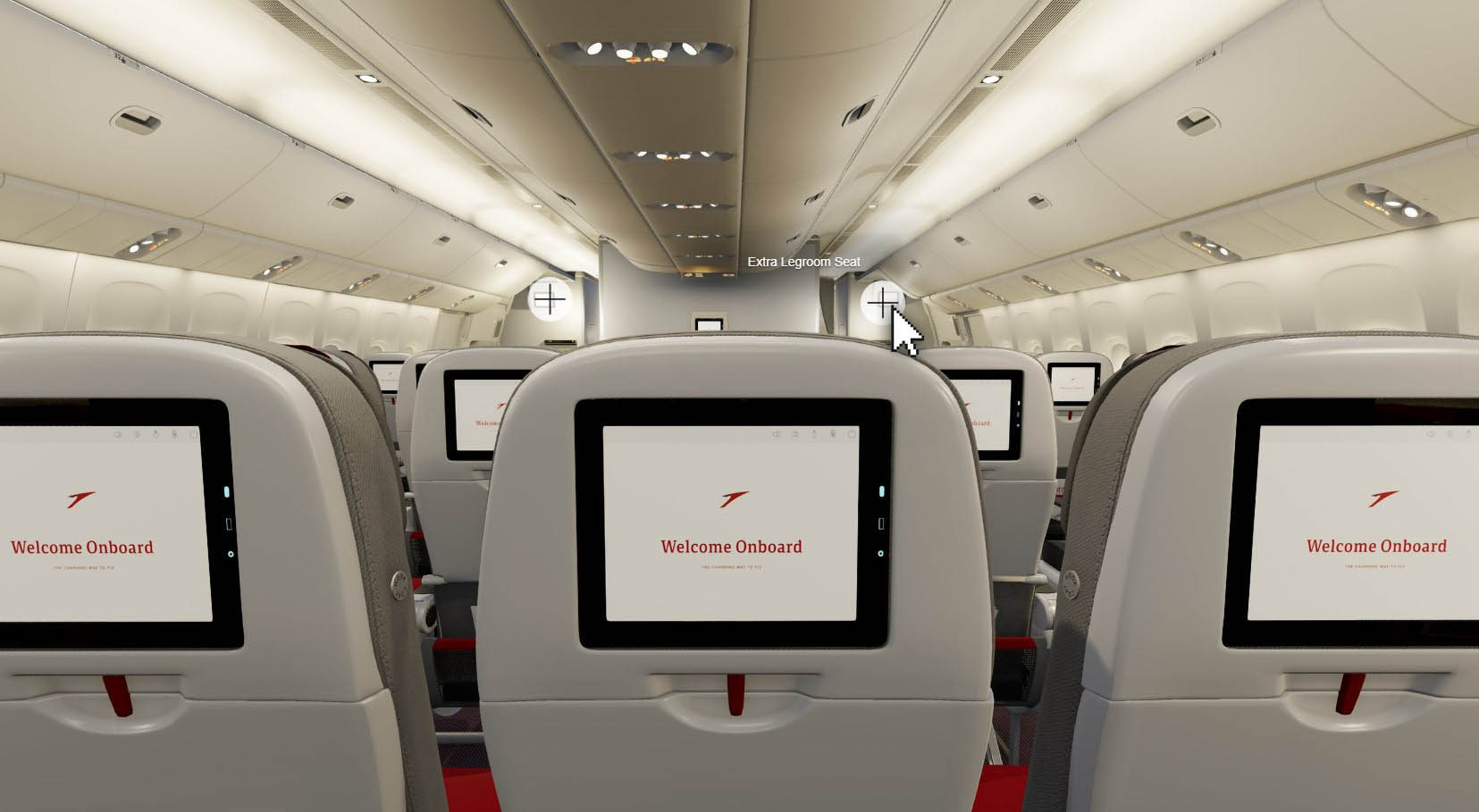 MAXIMIZING SEAT UPSELLING THANKS TO AN OPTIMIZED INTERFACE.
We've added specific Calls To Action to make it easier for users to find specific areas of the cabin, such as the extra legroom seating area, by including interactive icons in the 3D view that take the customer directly to a better seat, because the best way to increase the sales conversions for special seats is to make these seats known!
Quality in every single detail
IT'S NOT JUST ABOUT AIRPLANE SEATS. IT'S ABOUT TRANSMITTING AN EXPERIENCE.
Integration with seat selection on Austrian Airlines means bringing the highest detailed representation to the user, conveying quality in every little aspect. Details such as the leather reliefs specific to each seat, their numbering in the hatracks, the engravings on the seat belts or the realism of the seat buttons have been carefully taken care of to transport you to the plane before flying.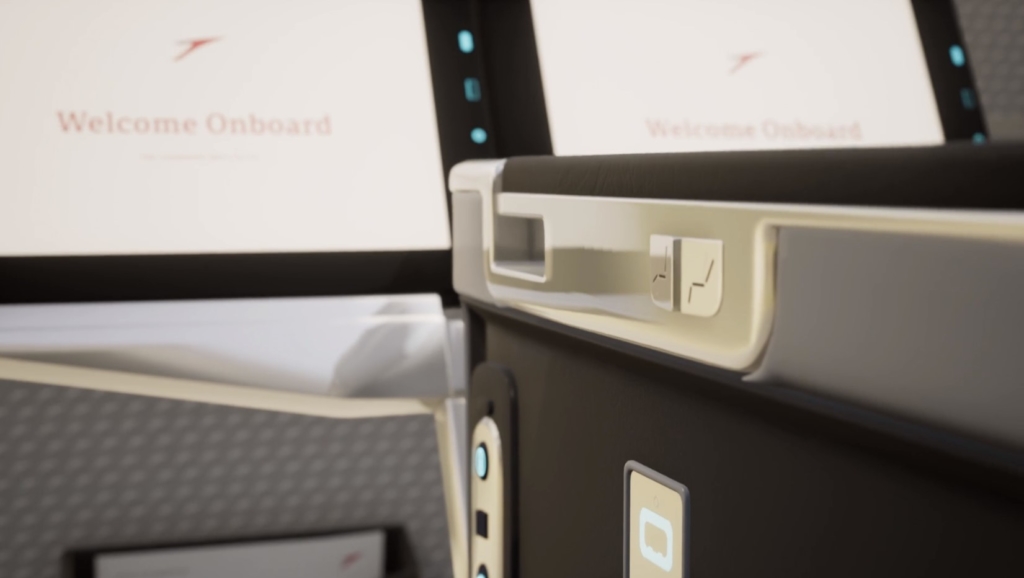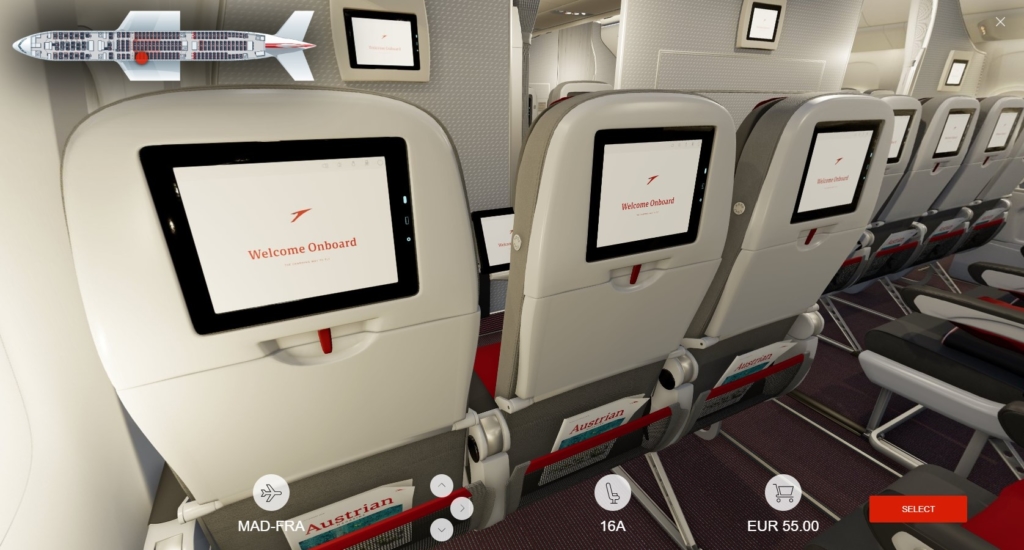 A 2D seatmap into the 3D view
QUICKLY NAVIGATE FROM ONE END OF THE AIRCRAFT TO THE OTHER WITH THE INTEGRATED MAP.
For the Austrian Airlines project, we developed a 2D seat map that we overlay in the upper left corner of the 3D view, so that you always have your position visible on the plane, and you can go through it by clicking on any seat on it. We bring together the best of two worlds!
Outstanding Premium Economy
DISCOVER ALL THE ASPECTS OF THIS CLASS AS IF YOU WERE THERE.
Meet a class designed to travel more comfortable, with wider seats and increased reclination, footrest, adjustable headrest, USB ports, power sockets … We have represented the Austrian Airlines Premium Economy with all its details, so that you know it as if you had visited it.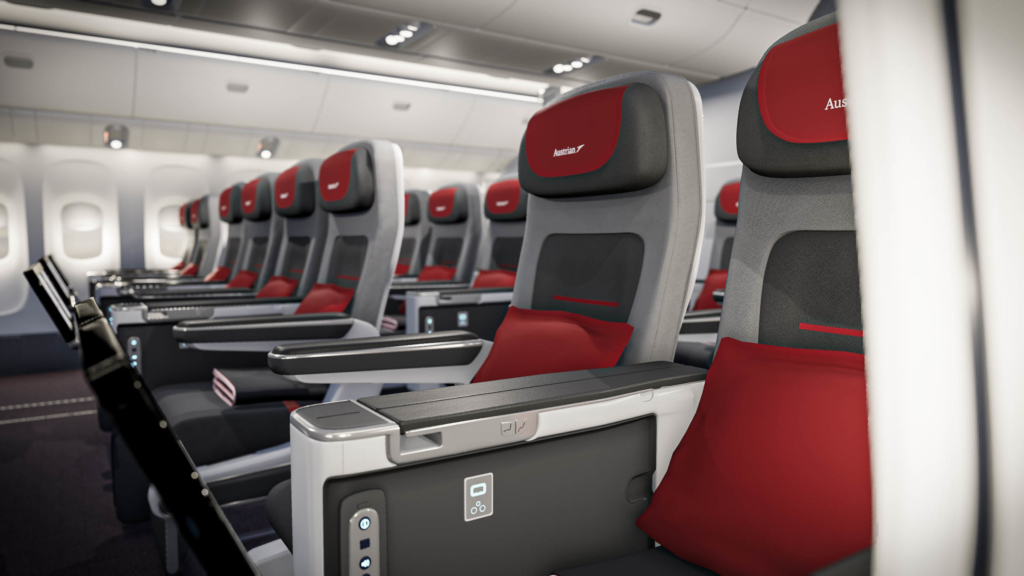 DISCOVER THE QUALITY IN THE DETAILS OF AUSTRIAN AIRLINES FLEET.